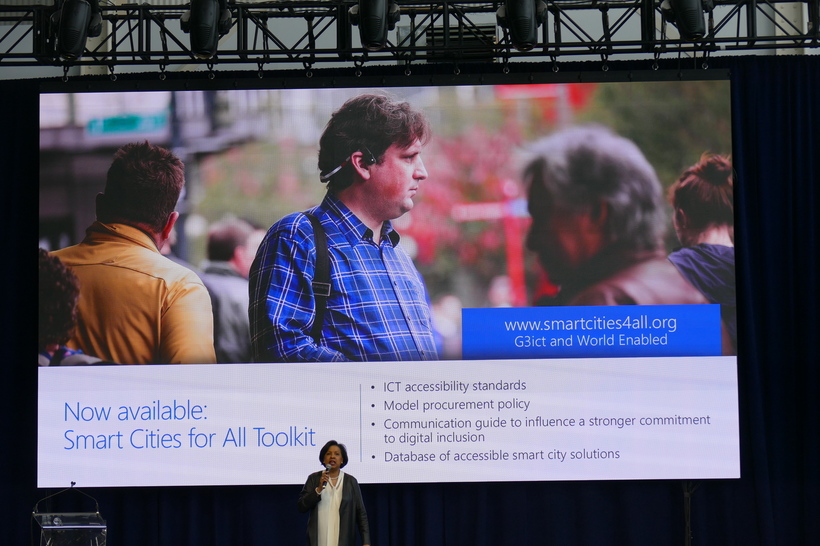 Meet the women leading the next generation of Smart Cities: Toni Townes-Whitley
Saeed Jabbar, Contributor
Founder of Inclusion
05/15/2017 04:57 pm ET Updated May 15, 2017
I recently attended the Smart Cities Conference in NYC's Brooklyn Navy Yard where I interviewed Toni Townes-Whitley, Microsoft's Corporate Vice President of Worldwide Public Sector and Industry for part one of this series. You can read my in-depth interview with her below to learn more about her vision for Smart Cities 2.0, her thoughts on Artificial Intelligence, and her work around creating the next generation of smart cities that are inclusive and equitable.
During the conference, Microsoft and its partners, Global Initiative for Inclusive Information and Communication Technologies (G3ict), and World ENABLED, launched the Smart Cities for All Tool Kit, led by the incredible James Thurston and Dr. Victor Santiago Pineda. The Smart Cities for All Tool Kit provides city leaders with an actionable guide and ICT standards to make this new era of cities more accessible and empowering for the over 1 billion people with disabilities on our planet.
Walk us through what's a day in your work like?
Each day can be a combination of the various industries I'm focusing on ranging from healthcare, financial services, manufacturing, retail, communications, and media as well as the different elements of our portfolio, in terms of Microsoft's solutions and products.
I'm just coming back from Germany where I was at Hannover Messe, the largest Worldwide manufacturing conference where we laid out our innovations around how we are transforming manufacturing and how were using not only our cloud solutions but our artificial intelligence through the HoloLens to create a much safer environment for technicians that are working on large machinery as well as a really a rich data experience for our customers that are expanding their markets from Daimler AG to Ecolab and others.
Engage citizens with the power of the of the @Microsoft cloud. https://t.co/W0VB71ygia pic.twitter.com/jOS7gSOyYd

— Microsoft CityNext (@MSFTCityNext) March 21, 2017
I move from industry to industry, speaking to our customers, partners, our own teams, and leaders from across the world but what stays consistent is the theme of empowerment and that's probably what also brings the most passion for me.
What are have been some of your challenges and successes?
The good days are when it all comes together and I see the impact of our technology. For instance, when I'm able to travel to places like India, Sub-Saharan Africa, Europe, and the United States and see the impact we have had around our commitments to digital literacy, education, health care, and connectivity.
The tough days, are when we are too narrow in our thinking, when we start to get overly excited about blinking lights and devices and we throw these devices towards problems, rather than get much more inclusive and greater contexts of what creates the problem that we're addressing. Those are some of the lower days but they are outweighed absolutely by the moments when we get it right.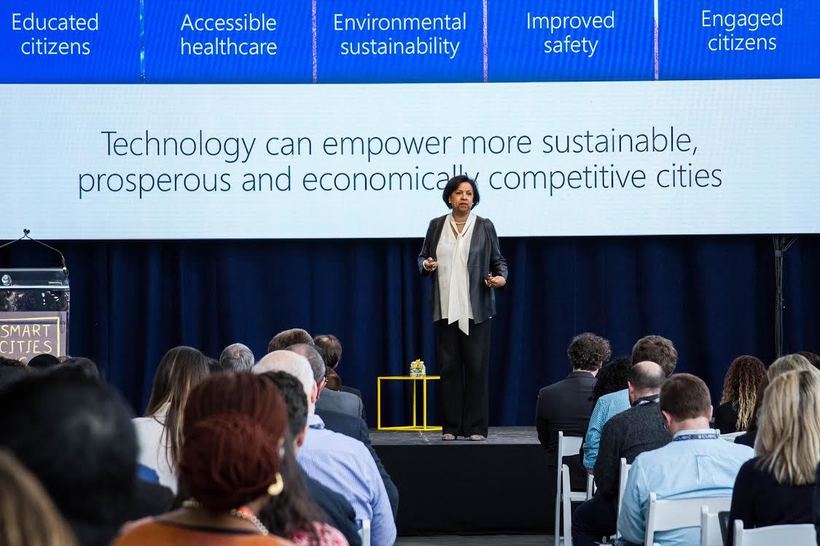 What role do you see Microsoft CityNext playing in creating more equitable cities?
Microsoft and our competitors are out transforming industry by industry with different forms of technology but the expectation should be larger than that. It should be about, how do we transform policy and regulations to ensure that the transformation of the technology is actually impacting in the correct ways that are empowering not harming.
How do we the go beyond responsibility to inclusion, to ensure that divide is not exacerbated by the very transformations that we are inflaming around the world. In this conversation around digital leadership, our aspiration is to impact in a positive way the transformations that we are introducing at its city level. I look at cities like New York that has a rich history and the question is, are we doing everything in the supply chain of creating a smart city.
What is it that creates inclusiveness for all in this new era of cities?
It is education, access, and empowerment. It is in those 3 dimensions that were working across cities around the world to make sure education is available and democratized for all with our products. To make sure access is for all and ensure individuals, as well as organizations, are empowered by the technology that we are creating.
We are excited about our wonderful partnership with G3ict and World ENABLED, two nonprofits that have collaborated with Microsoft on a program for Smart Cities for All and a toolkit that addresses key dimensions like the standards for ICT accessibility, ensuring people who may have a disability are able to participate in smart cities. This is part of the commitment that Microsoft has as a digital leader towards inclusion.
With the forces of automation and Artificial Intelligence (AI) growing and playing a critical role in smart cities, how can we manage the socio-economic consequences (ex. unemployment, civil unrest, etc.) of that are a result of these new technologies?
The question is, are we on the cusp of a hybrid workforce where people and machines work together to address some of the challenges. It is a very provocative topic for many but as we've seen, every major inflection point that has happened historically has displaced some aspects of jobs, created new aspects, and new categories of jobs.
When I think about the implications of AI and things like mixed reality for Microsoft, I think about the recent Harvard Business Review study that indicated 75% of organizations believe that their future success will depend on the collaboration between human and machine intelligence.
When the types of jobs are changing, companies like Microsoft must be on the education continuum to ensure that we're building the competencies to create the new workforce, as well as reskilling existing competencies, what we call now, middle skills.
There's always a conversation about what replaces what. Our perspective is that humans and machines, not only can they work well together but create new jobs that are enhanced by artificial intelligence and machines learning.
In fact, if you look at data and intelligent insights we can learn prophesies that actually make it safer for humans on the shop floor and certain industries. We can make it safer, we can bring up a higher valued job, the monotonous work can be done more by robots. Then we can have people filling a higher intellectual potential in the work that they do.
I go back to we are a company that is global at scale, with an iconic brand like Microsoft, and a history of really democratizing technology from our legacy. You should hold us accountable, we're holding ourselves accountable for ensuring that we're doing everything from the classroom to boardroom to create the next generation of those who can fill these jobs in this hybrid environment and reskill those who are currently working in another dimension.
What is your vision for the next generation of Smart Cities 2.0?
When I think about Smart Cities 2.0, I think of an inclusive and a fully immersive experience for all citizens. We can do a lot of technology transformation in cities, but if it does not improve lives, if citizens do not feel empowered then I don't believe it is a smart city unless it includes those experiences for all citizens. My view is a citizen-centric view of a smart city, that says that all the citizens of that city are empowered to be the very best they can be and the city becomes the ecosystem in which they work and live enriching lives.
Content retrieved from: http://www.huffingtonpost.com/entry/meet-the-women-leading-the-next-generation-of-smart_us_591a0b0fe4b0f31b03fb9e22.
Upcoming Events
There are no upcoming events.