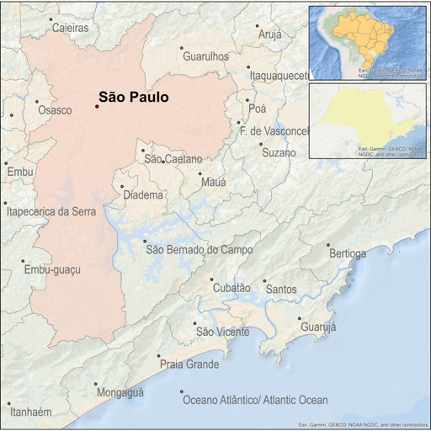 (Cidade de/ City of São Paulo - SP, Brasil)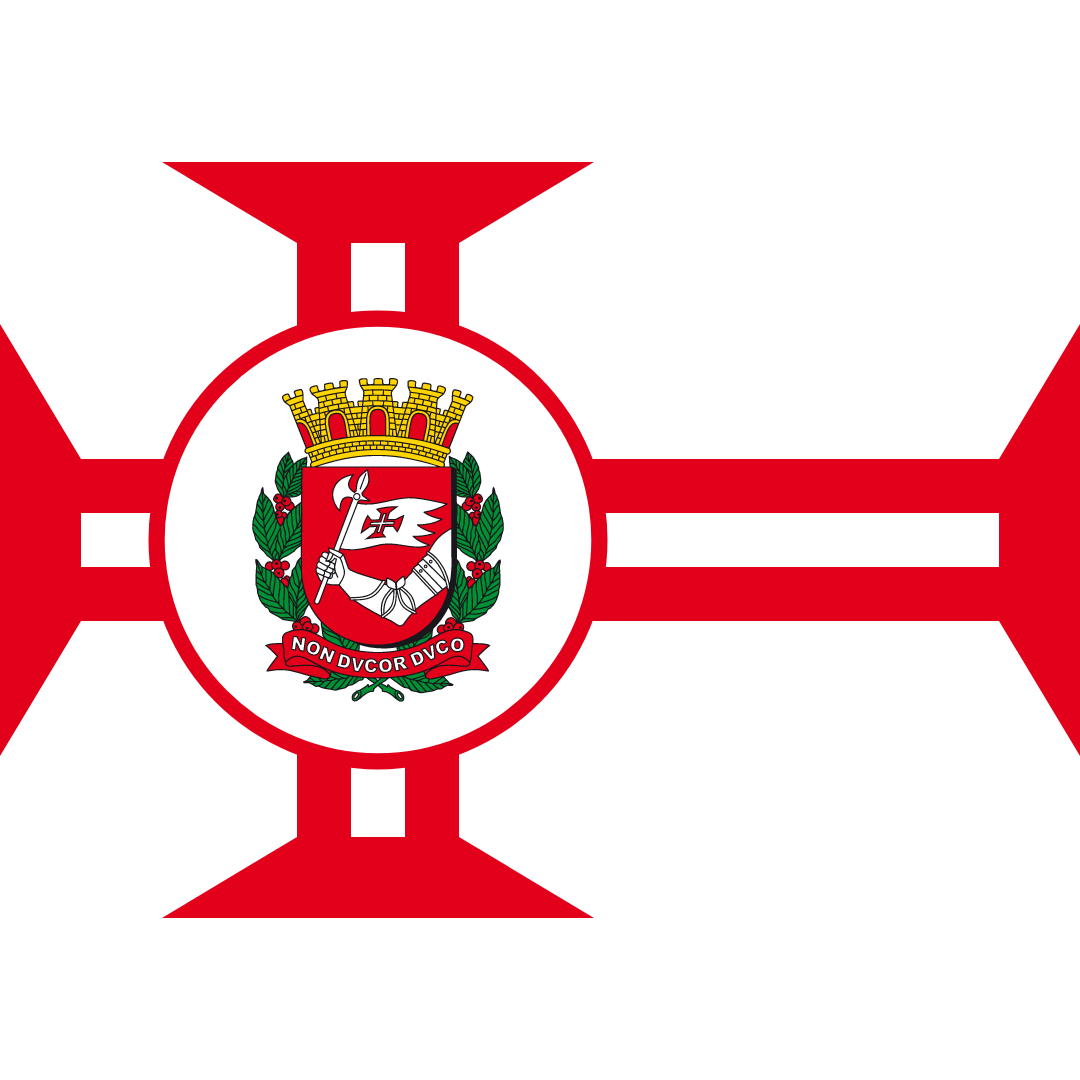 (Bandeira da Cidade de/ Flag of the City of São Paulo)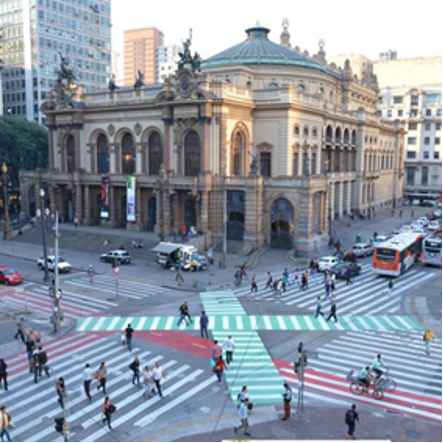 (Cartão Postal da Cidade de/ Post Card of the City of São Paulo - Teatro Municipal de São Paulo)
São Paulo is the 8th most populous city in the world. It has 12,33 million people (CENSO 2020) and an area of 1.521 km². The city is the financial center of Brazil and is the 10th largest GDP in the world, representing 11% of the entire GDP of Brazil. In addition, São Paulo has 63% of multinational headquarters established in the country.
Key Statistics
Population: 12,325,232 (2020)
Persons with Disabilities (%): 6.57%
São Paulo é a 8ª cidade mais populosa do mundo. Tem uma população de 12,33 milhões de habitantes (Censo 2020), distribuídas em uma área de 1.521 km². O município, centro financeiro do Brasil, possui o 10º maior PIB mundial, representando, isoladamente, 11% de todo o PIB brasileiro, além de ser sede de 63% das multinacionais estabelecidas no Brasil.
Principais estatísticas
População: 12,325,232 (2020)
Pessoas com Deficiência (%): 6.57%
Urban Mobility
São Paulo city has a fleet of almost 9 million vehicles registered according to DETRAN-SP (State Department of Traffic -Jun/21) and 21 thousand kilometers of road system. Daily, 41,4 million internal trips are made, of which, 28 million are performed by motorized modes and 13 million by non-motorized modes, called active modes.
Trips made on foot represent almost 1/3 of the total identified by the Origin and Destination Survey (Research OD/2017). The 13 million daily active mode trips have an average duration of 12 minutes each and the main reasons are work and school.
Mobilidade Urbana
A cidade de São Paulo possui uma frota de quase 9 milhões de veículos registrados (Detran - jun./21) e 21 mil km de Sistema Viário. São produzidas diariamente 41,4 milhões de viagens internas, das quais, 28 milhões são realizadas por modais motorizados e 13 milhões por modais não motorizados, chamados de modos ativos.
As viagens realizadas a pé representam quase 1/3 do total registrado pela Pesquisa Origem e Destino, OD/2017. São 13 milhões de viagens diárias, com duração média de 12 minutos cada. Os motivos principais são trabalho e escola.
Sidewalks and Exclusive Pedestrian Lanes
The City Hall of São Paulo, through the Municipal Secretariat for Persons with Disabilities (SMPED) and the Permanent Commission on Accessibility (CPA), with support from the Municipal Secretariats of Subprefectures (SMSUBS) and Urban Development (SMDU – through SPUrbanismo), created a Sidewalk Guide, which provides instructions and tips for building or renovating sidewalks in the Municipality of São Paulo, always complying with technical criteria and current legal standards. By sizing the sidewalks for use by a person in a wheelchair, in addition to guaranteeing their constitutional right, we provide safety and comfort for all people, with and without disabilities.
Walkability and Safety
Regarding the improvement of walkability and safety, with special attention for people with disabilities, the elderly, and children, the City Hall developed programs with the commitment signed through the Plan of Goals (Plano de Metas), to be implemented from 2021 to 2024 management.
Emergency Sidewalk Plan
Among them, we highlight the Emergency Sidewalk Plan – PEC (Plano Emergencial de Calçadas), which consists of maintaining 1.500.000 square meters of sidewalks to be built or renovated, with emphasis on public and private areas with greater pedestrian circulation, such as hospitals, shops, places of employment generation and schools, in addition the integration with public transport services in all regions of the city.
 Since the beginning of this administration, the City Hall of São Paulo has been carrying out sidewalk rehabilitation works in all 32 Subprefectures. In total, more than 1.5 million m² of sidewalks will be reclassified in places considered strategic or priority, chosen mainly based on pedestrian traffic and complaints from citizens on Portal SP156.
Other Projects and Services:
SMT
 Atende+: Free transport service for people with autism, deaf blindness, or severe physical disability, who pick them up at home for medical appointments or other health-related services.
 Bilhete Único Especial: Card used in the urban public transport system (buses in the capital, subways, and metropolitan trains) by people with physical, visual, hearing, and intellectual disabilities, which entitles them to exemption from fares.
SMPED
 Courses: CPA/SMPED offers training and knowledge improvement courses for professionals in the area (contractors, architects, engineers and civil construction workers), so that they can better contribute to the objective of transforming São Paulo into a city truly for everyone.
 Paraoficina Móvel: Van that has free maintenance and repair services for wheelchairs, orthotics, prostheses and mobility aids, such as crutches, canes and walkers. The initiative is a partnership between the municipal secretariats for Persons with Disabilities (SMPED), the São Paulo Municipal Health Secretariat and AACD.
Intermediation Center in Libras (CIL):  allows people with hearing disabilities and deaf people to have access to any public services in the city of São Paulo. CIL is an online service, available free of charge for mobile or tablet applications or for service directly through the website. He mediates communication between people with hearing impairments and public services in the capital through a video call with interpreters. Through an unprecedented initiative in Brazil between the largest operators and SMPED, browsing through the service does not consume the users' data package.
Partnership Municipality of São Paulo
In line with the objectives of the Municipality of São Paulo in encouraging active mobility and the improvement of walkability and safety, especially for people with disabilities, the elderly and children, the Municipal Secretaries of People with Disabilities (SMPED – Secretaria Municipal da Pessoa com Deficiência), International Relations (SMRI – Secretaria Municipal de Relações Internacionais), Mobility and Traffic (SMT – Secretaria da Mobilidade e Trânsito) and Executive for transport and Urban Mobility (SETRAM – Secretaria Executiva de Transporte e Mobilidade Urbana) supports the Global Initiative for Inclusive Information and Communication Technologies - G3ict, which aims to establish a partnership through technical assistance projects for the exchange of good practices and defense of the rights of people with disabilities. (Processo SEI nº 6065.2021/0000201-3)
 City Hall Partner:
City and Community Partners
Mobility and Traffic Secretary (SMT): Michele Fernandez Perea Cavinato
Municipal Department of Persons with Disabilities
Calçadas e vias exclusivas de pedestres
A Prefeitura de São Paulo, por meio da Secretaria Municipal da Pessoa com Deficiência (SMPED) e da Comissão Permanente de Acessibilidade (CPA), com apoio das Secretarias Municipais de Subprefeituras (SMSUBS) e Desenvolvimento Urbano (SMDU – através da SPUrbanismo), criou uma Cartilha de Calçadas, que traz instruções e dicas para construção ou reforma de calçadas no Município de São Paulo, obedecendo, sempre, os critérios técnicos e as normas legais vigentes. Ao dimensionarmos as calçadas para uso por uma pessoa em cadeira de rodas, além de garantirmos seu direito constitucional, proporcionamos segurança e conforto para todas as pessoas, com e sem deficiência.
Melhoria da caminhabilidade e segurança
Com vistas à melhoria da caminhabilidade e segurança, em especial, das pessoas com deficiência, idosos e crianças, a prefeitura elaborou programas com o compromisso firmado através do Plano de Metas, para serem implantados na gestão 2021 a 2024.
Plano Emergencial de Calçadas
Dentre eles, destacamos o Plano Emergencial de Calçadas – PEC, que consiste em realizar a manutenção de 1.500.000 metros quadrados de calçadas a serem construídas ou reformadas, com ênfase para pontos públicos e privados de maior circulação de pedestres, como hospitais, comércios, locais de geração de emprego e de escolas, além da integração com serviços de transporte público em todas as regiões da cidade.
Desde o começo desta gestão, a Prefeitura de São Paulo vem realizando obras de requalificação de calçadas em todas as 32 Subprefeituras. No total, serão mais de 1,5 milhão de m² de calçadas requalificadas em locais considerados estratégicos ou prioritários, escolhidos, principalmente, com base no tráfego de pedestres e nas reclamações dos munícipes no Portal SP156.
Outros Projetos e Serviços:
SMT 
Atende+: Serviço de transporte gratuito, porta a porta, destinado às pessoas com autismo, surdez-cegueira ou deficiência severa física.
 Bilhete Único Especial: Cartão utilizado pelas pessoas com deficiência física, visual, auditiva e intelectual no sistema de transporte coletivo urbano (ônibus da capital, metrô e trens da CPTM) que dá direito a isenção de tarifa.
SMPED 
 Cursos: A CPA/SMPED oferece cursos de capacitação e aprimoramento dos conhecimentos dos profissionais da área (empreiteiros, arquitetos, engenheiros e trabalhadores da construção civil), para que melhor contribuam com o objetivo de transformar São Paulo numa cidade verdadeiramente para todos.
 ParaOficina Móvel: Uma van que conta com serviços gratuitos de manutenção e reparos em cadeiras de rodas, órteses, próteses e meios auxiliares de locomoção, como muletas, bengalas e andadores. A iniciativa é uma parceria entre as secretarias municipais da Pessoa com Deficiência (SMPED), Secretaria Municipal da Saúde de São Paulo e AACD.
 Central de Intermediação em Libras (CIL): Permite que pessoas com deficiência auditiva e surdos tenham acessibilidade em quaisquer serviços públicos na cidade de São Paulo. O CIL é um serviço online, disponível gratuitamente para aplicativos de celulares ou tablets ou para atendimento diretamente pelo site. Ele realiza a mediação na comunicação entre as pessoas com deficiência auditiva e serviços públicos da capital por meio de uma videochamada com intérpretes. Por meio de uma iniciativa inédita no Brasil entre as maiores operadoras e a SMPED a navegação pelo serviço não consome o pacote de dados dos usuários.
Parceria Prefeitura Municipal de São Paulo
Alinhada aos objetivos da Prefeitura Municipal de São Paulo no incentivo a mobilidade ativa e a melhoria da caminhabilidade e segurança, em especial, das pessoas com deficiência, idosos e crianças, as Secretarias Municipal da Pessoa com Deficiência (SMPED), Municipal de Relações Internacionais (SMRI), de Mobilidade e Trânsito (SMT) e a Secretaria Executiva de Transporte e Mobilidade Urbana (SETRAM), apoiam o projeto da Iniciativa Global para Tecnologias da Informação e Comunicação Inclusivas (G3ict), que tem por finalidade estabelecer parceria por meio de projetos de assistência técnica para o intercâmbio de boas práticas e defesa dos direitos das pessoas com deficiência. (Processo SEI nº 6065.2021/0000201-3)
Parceiros Prefeitura Municipal:
Parceiros da cidade e da comunidade
Secretaria Municipal de Mobilidade e Trânsito de São Paulo
Secretaria Municipal da Pessoa com Deficiência da Prefeitura da Cidade de São Paulo
Community and Organizations Partners:
Institute Biomob (Valmir Souza - CEO and Denise Vac - Architect and Urbanist Partner)
Parceiros da Comunidade e Organizações:
Instituto Biomob (Valmir Souza - CEO e Denise Vac - Arquiteta Urbanista Parceira)
G3ict-Smart Cities for All Country Representative: Regina Cohen