"Ciudades Inteligentes para Todos" Guía práctica disponible en español
Publicado junio 27, 2017 junio 27, 2017 Por Federico Rodriguez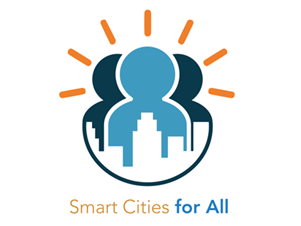 Por Daniel Korn, Director de Asuntos Corporativos, Microsoft Latinoamérica
La inclusión habla muchos idiomas. Microsoft se complace en anunciar la versión en español de la Guía Practica Ciudades Inteligentes para Todos de G3ict y World Enabled, en el Smart City Expo Latin American Congress, que tiene lugar el día de hoy, 27 de junio de 2017, en la ciudad de Puebla, México.
A principios de este año, Microsoft acompañó a G3ict y World Enabled en el Smart Cities NYC '17 para el lanzamiento de la Guía Práctica "Ciudades Inteligentes para Todos". La Guía Práctica proporciona a líderes de las ciudades acciones concretas para alinear sus iniciativas tecnológicas y programas de ciudades inteligentes a sus objetivos de empoderar a personas con discapacidades y personas mayores. La Guía Práctica fue muy bien recibida, y desde entonces, hemos colaborado con el lanzamiento de una versión en portugués. Hoy, en colaboración con G3ict y World Enabled, nos complace poder ampliar la disponibilidad de la Guía Práctica "Ciudades Inteligentes para Todos" a países de habla hispana.
El Dr. Víctor Pineda, Presidente de World Enabled dijo, "Nos sentimos honrados con el lanzamiento de la versión en Español de la Guía Práctica en México, un país con un fuerte compromiso, tanto con las ciudades de vanguardia, como con la inclusión digital".
James Thurston, Vice Presidente de G3ict", añadió, "líderes en tecnología reconocen que hay programas innovadores de ciudades inteligentes siendo desarrollados y desplegados en todas las regiones del mundo. Apreciamos la colaboración de Microsoft en permitir que nuestra Guía Práctica "Ciudades Inteligentes para Todos" esté disponible en varios idiomas, para que líderes desde la ciudad de Guadalajara hasta las ciudades de Medellín y Río de Janeiro puedan aumentar su enfoque sobre la inclusión digital de personas con discapacidades".
Para Robert Ivanschitz, Director de Asuntos Corporativos, Externos y Legales de Microsoft Latinoamérica, "las tecnologías accesibles garantizan que las personas con discapacidades tengan acceso a servicios y contenidos, aprendan de manera más efectiva, colaboren más fácilmente con otras personas y se comuniquen de manera más clara. Estas tecnologías también nos ayudan a seguir siendo productivos e independientes a medida que envejecemos".
En Microsoft, nuestra misión es capacitar a cada persona y cada organización en el planeta para lograr más. Tenemos la convicción de que expandiendo el acceso a soluciones tecnológicas en distintos idiomas puede jugar un rol poderoso en que las ciudades sean más accesibles e inclusivas.
Volver arriba
Content retrieved from: https://news.microsoft.com/es-xl/ciudades-inteligentes-para-todos-guia-practica-disponible-en-espanol/#sm.00000rtv8ngn0if6ssob1ynb4pyuf#3cal4kx8b8oHjKtt.97.
Upcoming Events
Oct
24
Mon
8:00 am
M-Enabling Summit 2022. Digital ...
M-Enabling Summit 2022. Digital ...
Oct 24 @ 8:00 am – Oct 26 @ 1:00 pm
With its theme of "Digital Inclusion: Strategies for Equal Opportunities," the 2022 M-Enabling Summit will facilitate networking and brainstorming in exploring major trends in business, government and education that are accelerating the pursuit of universal accessibility for digital products, content and services. With its venue...
SC4A VIDEOS

Designing Smart Cities | James Thurston at Smart City Experience 2020

Defining and Measuring Inclusive Smart Cities
James Thurston's Interview on BBC Click Radio | January 23, 2019

Smart Cities for All in Mexico | James Thurston Speaks on the Digital inclusion Maturity Model
Message from Dr Victor Pineda for IDPD